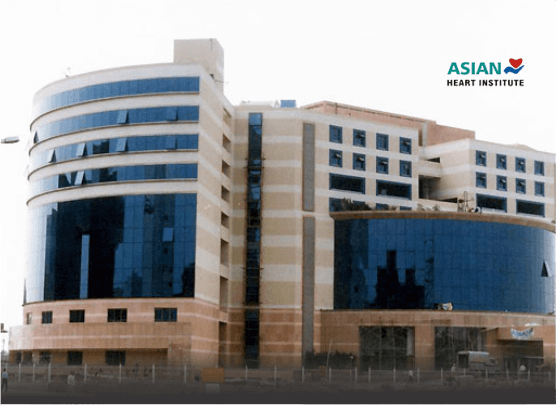 Asian Heart Institute

Warning: count(): Parameter must be an array or an object that implements Countable in /home/u796777226/domains/comparemedicaltourism.com/public_html/wp-content/themes/cmt/single-hospitals.php on line 203

Warning: Invalid argument supplied for foreach() in /home/u796777226/domains/comparemedicaltourism.com/public_html/wp-content/themes/cmt/single-hospitals.php on line 206

Overview
Other Specialties
Additional Services
Quality Certifications
Reviews
Overview
Asian Heart Institute (AHI), India's No. 1 Heart Care Hospital, has been set up with an aim to provide world-class cardiac care in India. In just 17 years, we have treated more than 380,000 patients, and have completed over 43,000 angiographies and more than 24,000 heart surgeries. We have a staggering success rate of 99.83% in bypass surgeries and an overall 99.4% in cardiac surgeries. These success rates are among the highest in the world.
Honest opinions delivered by highly capable, experienced, and dedicated professionals, using the best-in-class systems, processes, and practices with a strict no-tolerance policy to compromises, have rendered Asian Heart institute a model healthcare institution.
A dream of leading cardiac specialists in Mumbai – led by Dr. Ramakanta Panda – AHI was set up with the aim of providing a holistic approach to heart care based on ethics, expertise, experience, excellence, quality care, and the best medical professionals offering competitive prices. We offer the highest quality in terms of design, infrastructure facilities, patient care, medical, paramedical, and general staff.
AHI has a patient-centric design with stress on the safety and comfort of patients and relatives. All patient areas have been designed to minimize the risk of infection which globally, is the number one cause for deaths in hospitals.
We have just entered our second decade of providing world-class cardiac care to our patients. And we are now widely acknowledged as 'The Best Private Cardiac Care' in India, twice in a row. AHI was started to set a benchmark in quality care, ethical practice, reasonable costs, and training for those in the profession. We are now known for our ethical practices in offering honest opinions and not conducting any unnecessary treatments. Almost a third of our patients were advised angioplasty or surgery elsewhere though they are now managed medically with lifestyle modification and cardiac rehabilitation. By maintaining the highest quality and reducing complications, we are able to offer lower overall costs to our patients as compared to other hospitals, especially for complicated cases.
Contact details
Procedures
Cardiology
Cardiothoracic Surgery
Cardiology (19 procedures)
Angiogram
Atrial Septal Defect (ASD) Closure
Cardiac MRI
Cardiac Resynchronisation Therapy (CRT)
Cardioversion
Electrophysiology & Catheter Ablation
Implantable Cardioverter-Defibrillator (ICD)
Implantation of IVC filter
Left Ventricular Assist Device (LVAD)
Pacemaker Implantation
Patent Ductus Arteriosus (PDA) Closure
Percutaneous Coronary Intervention (Angioplasty)
Pericardiocentesis
Stress Echocardiography
Tilt table test
Transcatheter Aortic Valve Implantation (TAVI)
Transoesophageal Echocardiography
Transthoracic Echocardiography
Ventricular Septal Defect (VSD) Closure
Cardiothoracic Surgery (8 procedures)
Aortic Valve Replacement
Coronary Artery Bypass Graft (CABG)
Heart Transplant
Lung Transplant
Mitral Valve Replacement
Paediatric Cardiac Surgery
Thoracoscopic Surgery
Valve Repair Surgery
Airport pick-up and drop-off from international and domestic airports.
Assistance in securing economical hotel accommodation for relatives.
Arranging prior appointments with AHI doctors and consultants.
Complete orientation to the hospital on arrival at AHI.
Personalised guidance at every step of the stay.
Internet facilities to keep in touch with home.
Personal phone facility at local rates and reasonable rates for international calls.
Prayer rooms that accommodate a variety of spiritual needs.
AHI has treated patients from 38 countries in the world in the last year alone. Our team of surgeons and doctors – amongst the best in the world – have performed over 24,000 Heart Surgeries, 43,000 Angiographies & Angioplasties 4,400 complex surgeries, many of them considered inoperable.

Warning: count(): Parameter must be an array or an object that implements Countable in /home/u796777226/domains/comparemedicaltourism.com/public_html/wp-content/themes/cmt/single-hospitals.php on line 428

Warning: Invalid argument supplied for foreach() in /home/u796777226/domains/comparemedicaltourism.com/public_html/wp-content/themes/cmt/single-hospitals.php on line 431

Reviews not found..