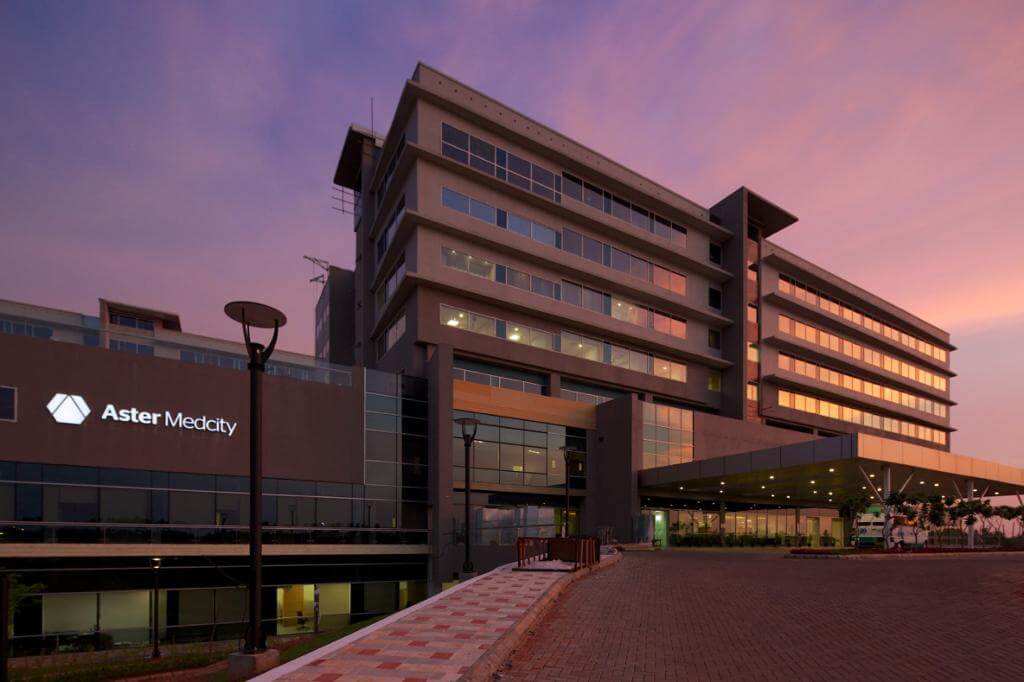 Overview
Other Specialties
Additional Services
Quality Certifications
Reviews
Overview
A world-class quaternary care centre with one Multispeciality Hospital and eight separate Centres of Excellence, Aster Medcity combines the best of talent and technology to provide holistic treatment with a multidisciplinary approach.
Over the years, Aster Medcity aspires to evolve into a medical destination – one that attracts and nurtures the best talent, keeps upgrading technology as well as fosters research, education and a distinctive work culture that is ethically and socially relevant.
Kerala is known the world over as a destination for wellness-tourism based on the traditional system of Ayurveda. Aster Medcity will create a paradigm shift by focusing on mainstream modern medical treatment, thus placing Kerala firmly on the global Medical Value Travel map.
Set in a soothingly beautiful 40-acre waterfront campus, Aster Medcity is a 670-bed quaternary care facility with one Multispeciality Hospital and eight separate Centres of Excellence in Cardiac Sciences, Neurosciences, Orthopaedics & Rheumatology, Nephrology & Urology, Oncology, Women's Health, Child & Adolescent Health and Gastroenterology & Hepatology.
The first quaternary care hospital in Kerala to achieve the coveted JCI (Joint Commission International) Accreditation – the gold standard in global healthcare, Aster Medcity also won the NABH Accreditation, first-ever NABH Award for Excellence in Nursing and Green OT (Green Operation Theatres) Certification by Bureau Veritas – all within one year of opening its door to the world.
WE'LL TREAT YOU WELL: This is our promise, our philosophy and way of life. And we'll strive to honour this promise, every day, every moment, by doing everything we can to ensure you receive high quality, personalized medical care.
Aster Medcity has an outstanding team of healthcare professionals comprising nationally and internationally trained doctors who are experts in their specialities, ACLS/BLS/ATLS/PALS certified nurses, dieticians, rehabilitation therapists and qualified technicians. Capable of handling the most complex cases, they provide optimal and evidence-based treatment to patients, with a multidisciplinary approach.
In the delivery of healthcare, care and compassion are as important as the skills of professionals and cutting-edge technology. This human touch along with a patient-centric hospital design, high-quality treatment at an affordable cost and a soothing ambience make Aster Medcity the destination for accelerated healing.
Location
Aster Medcity is located in Kochi – a city that's a fascinating combination of nature and modern life. This green patch of peace, flanked by backwaters and beaches, is well connected by air, rail and road with an International Airport (Cochin International Airport) that's just 30 minutes away from Aster Medcity, two Railway Terminals – Ernakulam South and Ernakulam North and National Highway 47 & National Highway 17.
Languages spoken
Arabic, English, French, German, Hindi, Malayalam, Russian
Contact details
Procedures
Bariatric Surgery
Cardiology
Cardiothoracic Surgery
Ear, Nose & Throat Surgery (ENT)
Endocrinology
Gastroenterology
General Medicine
General Surgery
Gynaecology
Interventional Radiology
Nephrology
Neurology
Neurosurgery
Obstetrics
Oncology
Ophthalmology
Oral and Maxillofacial Surgery
Orthopaedics
Paediatrics
Plastic and Cosmetic Surgery
Radiology
Respiratory Medicine
Rheumatology
Stroke Medicine
Transplant Medicine
Urology
Vascular Surgery
Bariatric Surgery (5 procedures)
Gastric Band
Gastric Bypass
Gastric Sleeve
Intra-gastric Balloon
Revision Bariatric Surgery
Cardiology (19 procedures)
Angiogram
Atrial Septal Defect (ASD) Closure
Cardiac MRI
Cardiac Resynchronisation Therapy (CRT)
Cardioversion
Electrophysiology & Catheter Ablation
Implantable Cardioverter-Defibrillator (ICD)
Implantation of IVC filter
Left Ventricular Assist Device (LVAD)
Pacemaker Implantation
Patent Ductus Arteriosus (PDA) Closure
Percutaneous Coronary Intervention (Angioplasty)
Pericardiocentesis
Stress Echocardiography
Tilt table test
Transcatheter Aortic Valve Implantation (TAVI)
Transoesophageal Echocardiography
Transthoracic Echocardiography
Ventricular Septal Defect (VSD) Closure
Cardiothoracic Surgery (8 procedures)
Aortic Valve Replacement
Coronary Artery Bypass Graft (CABG)

$6000

Heart Transplant
Lung Transplant
Mitral Valve Replacement
Paediatric Cardiac Surgery
Thoracoscopic Surgery
Valve Repair Surgery
Ear, Nose & Throat Surgery (ENT) (0 procedure)
Procedures Not Exist
Endocrinology (0 procedure)
Procedures Not Exist
Gastroenterology (3 procedures)
Colonoscopy
Endoscopy
Gastroscopy
General Medicine (2 procedures)
Abdominal paracentesis
Nasogastric intubation
General Surgery (4 procedures)
Cholecystectomy
Haemorrhoidectomy
Hernia surgery
Laparoscopy
Gynaecology (5 procedures)
Colposcopy
Hysterectomy
Hysteroscopy
Obstetric care
Ovarian cystectomy
Interventional Radiology (0 procedure)
Procedures Not Exist
Neurology (11 procedures)
Botulinum Toxin Therapy
Cerebral Angiography
Dementia treatment
Electroencephalogram (EEG)
Electromyography (EMG)
Epilepsy treatment
Lumbar Puncture
Migraine treatment
Pain Management
Parkinson's Disease treatment
Thrombolysis and Thrombectomy (Stroke)
Neurosurgery (6 procedures)
Aneurysm Surgery
Ateriovenous Malformation (AVM) Surgery
Brain Tumour surgery
Deep Brain Stimulation
Endovascular Neurosurgery
Hydrochephalus surgery
Obstetrics (0 procedure)
Procedures Not Exist
Oncology (6 procedures)
Bone Marrow Transplant (BMT)
Cancer Surgery
Chemotherapy
Proton Beam Therapy
Radiation therapy
Radiosurgery
Ophthalmology (4 procedures)
Cataract surgery
Diabetic Retinopathy Surgery
Glaucoma Surgery
Laser Eye Surgery
Oral and Maxillofacial Surgery (0 procedure)
Procedures Not Exist
Orthopaedics (17 procedures)
Ankle Replacement
Bunion Surgery
Carpal tunnel release
Clubfoot Surgery
Elbow replacement
Hip Replacement
Knee Arthroscopy
Knee Replacement
Ligament Repair/Reconstruction
Meniscal Repair
Rotator Cuff Surgery
Shoulder Arthroscopy
Shoulder Replacement
Spinal Surgery
Tennis Elbow Release
Trauma Surgery
Trigger Finger Release
Paediatrics (0 procedure)
Procedures Not Exist
Plastic and Cosmetic Surgery (0 procedure)
Procedures Not Exist
Radiology (0 procedure)
Procedures Not Exist
Respiratory Medicine (0 procedure)
Procedures Not Exist
Rheumatology (2 procedures)
Joint (intra-articular) Injection
Nerve Blocks
Stroke Medicine (0 procedure)
Procedures Not Exist
Transplant Medicine (0 procedure)
Procedures Not Exist
Urology (9 procedures)
Cystoscopy
HoLEP Surgery
Hydrocoele Surgery
Kidney Transplant
Nephrectomy
Prostatectomy
Renal Stone (Calculus) surgery
Transurethral Resection of Prostate (TURP)
Varicocoele Surgery
Vascular Surgery (1 procedure)
Complimentary airport pickup/drop for all International patients
Availability of airport staff and SIM cards on arrival hall at Cochin International Airport
Assistance for selection of hotels and guest house as per the budget of guests
Availability of forex and travel desk services
In house translation services at no extra cost with 24*7 availability
Assistance for arranging short Tourism trips to nearby places
Complimentary WiFi inside hospital and Annex (in house accommodation)
Complementary FRRO services for registration
Dedicated International Insurance desk for Patients having International Insurance
Dedicated staff for assisting patients during OPD and IPD